A highly successful Boomer, Ardie Gregory, has been vice president and general manager of MIX 101.5 WRAL-FM since 1998, and she well remembers when she and her husband arrived from Baltimore to settle into their new lives.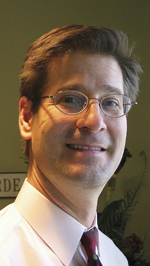 Dr. Andreaus
"There was so much to attend to," she recalls. "We needed a home, of course, and I was working with a real estate agent. And I also needed a doctor and a family dentist and periodontist to deal with some ongoing dental issues. For a general family dentist, my helpful real estate expert recommended that I see Dr. Steven Andreaus—and, perfectionist that he is, he has been our family dentist ever since. At the same time, he has transformed my smile."  (see photos, below)
Ms. Gregory soon came to believe that relying on Dr. Andreaus's expertise was an excellent choice. Over a long career, he has built a national reputation and is one of about 500 dentists who have earned accreditation by the American Academy of Cosmetic Dentists. He now serves on the governing board of that international association.
"When I first went to Dr. Andreaus, I was attending to a few perio issues but my teeth, cosmetically, were certainly presentable if not perfect. But over time, Dr. Andreaus did an overall assessment of my smile, and he came to me and said 'I just want to show you some pictures. I want to give you some options. You are in a professional position where you obviously want to look your best at all times—especially with regard to your smile.
"'I suggest you consider redoing the cosmetic work you've had done previously to achieve a more finished and balanced look.' He was my general family dentist for probably two years before I decided to take this advice. He is a perfectionist, and I think that shows in his work.

Ardie Gregory's smilebefore and after
"I've been living with this new smile for about 15 years, with complete satisfaction. So I happily recommend him to anyone who ever asks me for advice about dental care—and let me tell you one of the reasons I do that. I have a periodontist here in town that I see on a regular basis, and this specialist—along with other professionals who have done work for me—simply marvel at the detail and the perfection of the work Dr. Andreaus has done in my mouth. So if anyone ever asks me if I can recommend a dentist, I always say 'yes'."
"Anti-Aging" Dentistry
Restoration is a key word to describe the work Dr. Andreaus did both with and for this patient. "In a sense, it was anti-aging work," he says with a smile. "It was mostly anterior work. Some of her crowns were aging a bit, so it was time for them to be redone—and that's exactly what we did. And we also took out some old fillings and simply gave her a newer, healthier smile.
"Human nature being what it is, when you have teeth that used to not look so great, and now they look better, you'll want to take better care of them. If I get a dent or a scuff in my 12-year-old pickup truck I really don't care. I just want the guy to say he's sorry. But if I get a dent in my brand new truck, we'd be talking about trading insurance information or writing a check."
A New Look
Bonnie Hunter is another Boomer who appreciates the fact that Dr. Andreaus is equal parts artist and perfectionist.
"It's quite amazing how he simply will not let go of the smallest detail until it is resolved to his satisfaction," she says. "He is so focused and so intent—and I think those are the hallmarks of a first-rate artist."
Notes Dr. Andreaus, "In patients who are 45 and older, such as Bonnie, we're often dealing with problems of occlusion—the normal spatial relation of the teeth when the jaws are closed. Her work included use of the Invisalign® aligners to straighten her teeth, without braces. Rather than metal braces, we use a series of clear, removable, hard plastic aligners that over time gently and steadily move teeth into alignment.
"We have a commitment in this practice to serve the patient by minimizing the cosmetic work we do, to achieve a more natural appearance because the majority of the teeth we're working with are still the patient's natural teeth. Matching restorations to natural teeth is one of the most challenging things we do."
Corey Mason's Work Featured in Gallery A
"Dr. Andreaus's love of art is nowhere more apparent than in Gallery A, the attractive space in his practice which has long been devoted to presenting the work of local and area artists. Soon to be featured are the human-scale paintings of Corey Mason of Raleigh, who is rapidly gaining recognition as one the finest contemporary painters in the South.
The work, an impressive 55 by 83 inches, is titled Poems of Alberto Jon. The opening reception for Corey Mason's work will be on January 22, from 6:30 to 8:30 pm. All are welcome. More information: www.gallerya-nc.com.